The country of Thailand is a must-visit destination for Thai Food lovers and travelers alike. From mouthwatering curries, street snacks, and delicious desserts to authentic Thai meals, there are so many options to try out, that you will find it hard to pick the best one from the list.
This article features the 10 best Thai food you'll love to try in Thailand. There are a lot of great foods in Thailand. The 10 best Thai food you should know is in no particular order because these are our personal favorites! So, if you are a food lover and want to try different Thai food, here are 10 of the best Thai food that you must try in the country.
Thai Food #1
Tom Yum Goong (Spicy Shrimp Soup)
Tom Yum Goong or Tom Yum Soup is a very popular Thai spicy soup, which is often available in most Thai restaurants or a part of a Thai banquet. The original recipe was created by the Royal family in Thailand back in 1787.
Today, many different variations are available. Tom Yum Goong can be made using several types of shrimp since the word "Goong" means shrimp or prawn in Thai. Commonly used varieties include tiger prawns and tiger prawns with krab, while the original version consists of shrimps, galangal, lemongrass, lime leaves, and galangal.
Tom Yum Goong is also a famous dish among ex-pats living in Thailand. It has been described as the most authentic Thai dish, and some say it's also one of the most delicious. The soup contains ingredients like fish sauce, garlic, lemongrass, lime leaves, coriander seeds, sugar, water, and salt. To give the soup more flavor, one can add peanuts, shallots, or chilies.
Tip: There are two types of Tom Yum Goong, the clear soup and the creamy one, which you should be aware of when ordering. The clear soup is the best for your health, while the creamy soup is the most commonly served and best for its flavor and richness.
Thai Food #2
Tom Kha Gai (Chicken in Coconut Soup)
Tom Kha Gai is a Thai-style chicken soup made from coconut milk. It's a simple dish but one of the most popular soups in Thailand. Why? Because it satisfies your stomach, your soul, and it's one of the most delicious flavors around!
It's also low in sodium, low in calories, and high in protein—making it a great meal prep option. With over two million Google hits on how to cook it, Tom Kha Gai is the kind of recipe that people know. It's been a staple in Thai restaurants for years, and it's a dish that people usually order at least once per trip to Thailand. If you're a chicken lover, then this dish will be sure to please.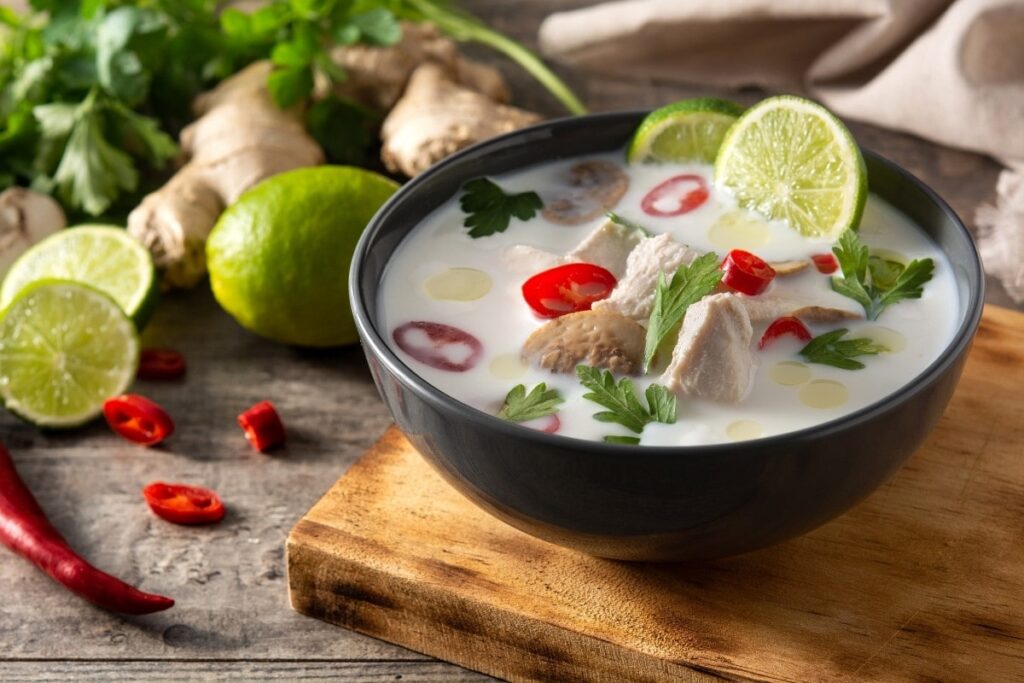 Tom Kha Gai, also known as "chicken in coconut soup," is a popular Thai dish that is made with chicken and coconut milk. The key to this dish is the type of coconut used and the way to prepare it. The most common type of coconut is the large, hard, brown coconut which is best for the soup. This kind of coconut is the same type for making curry paste and Thai desserts.
It can be a healthy meal if you choose wisely, but it can also be quite delicious. The key to making this soup right is to use chicken thighs instead of chicken breasts. Chicken thighs are more flavorful and have a lot of fat, which will give this soup a nice richness. This is because the fat in the chicken is more in the thigh area, and is less in the breast.
Thai Food #3
Som Tum (Spicy Green Papaya Salad)
Som Tum is a popular Thai dish that you will find in almost all the restaurants in Thailand. It is typically available as an appetizer or side dish and is very delicious!
In the old days in Thailand, people eat Som Tum at lunchtime as a snack or as a side dish. It is spicy and sweet and full of color. In order to make Som Tum, we need to prepare from the shredded green papaya. Then put some sugar, lime juice, and salt. Finally, add some dried shrimps on the top and be ready for serving.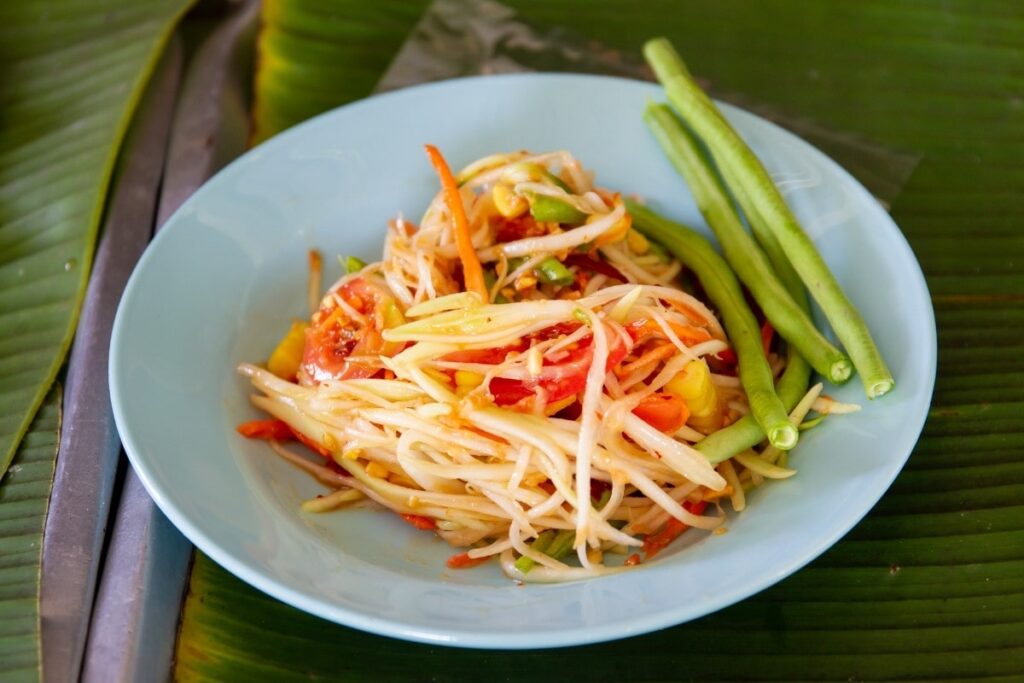 If you ever get a chance to visit Thailand, you should eat some Som Tum. It is a very refreshing salad because it is sweet and sour. Usually, Som Tum will come with sticky rice and a small bowl of various vegetables as the side dishes.
Following this, Som Tum is very healthy since it contains lots of vitamins and minerals, such as potassium, phosphorus, calcium, iron, and zinc. In addition, it also helps you to lose weight because it is a low-calorie food.
Thai Food #4
Panang Curry (Thai Red curry)
Panang curry is the most famous of all Thai dishes, thanks to its use of coconut milk. It is a spicy Thai dish that's also available in most Thai restaurants. The dish consists of chicken, pork, or beef meat cooked in coconut milk with chilies and herbs, making it one of the most popular items on their menus.
Panang curry is also one of the most popular dishes in Thailand and consists of the same basic ingredients, including Thai Red Curry paste. It's good spicy and delicious to eat with hot steamed rice, especially great for lunch!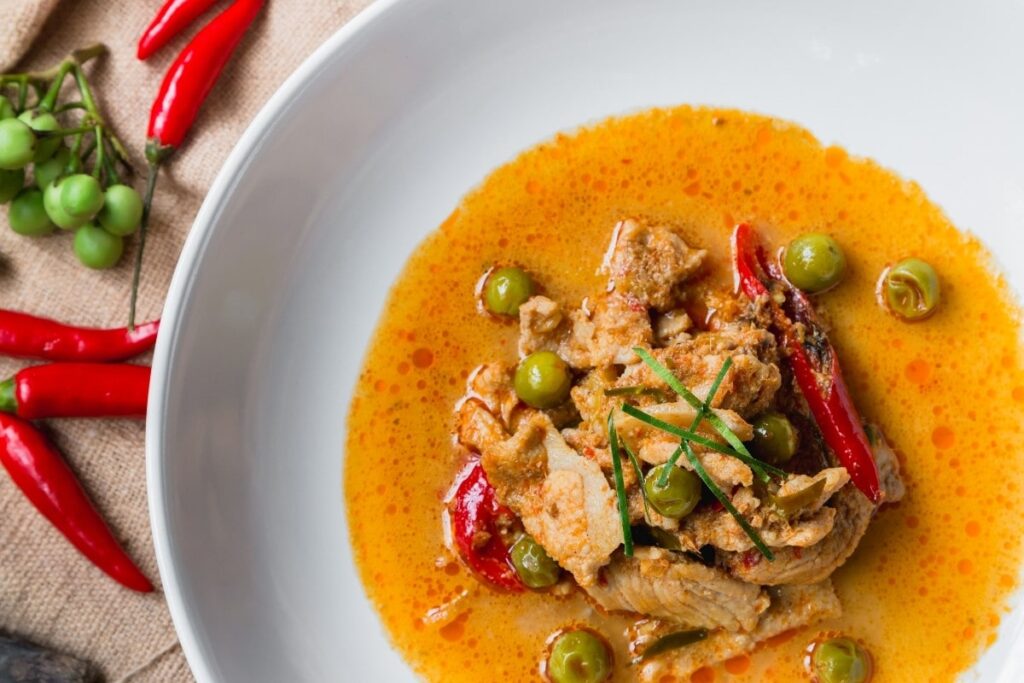 Whether it's pork Panang curry, beef, or chicken, it's all delicious. The first thing to consider when cooking Panang Curry is the type of coconut. If you use the dried version, you will need to soak it in hot water first before you add the spices and vegetables.
The type of coconut that you use is important as it determines the taste of the dish. The fresher the coconut, the better the flavor.
Tip: The secret for cooking Panang Curry is that you should stir-fried curry paste mixed with coconut milk until it has a mellow taste. 
Thai Food #5
Pad Thai (Thai-style Fried Noodles)
Pad Thai has become one of the national dishes of Thailand. It has become popular all over the world. According to 2003 data from Thai Wikipedia, there are over 6,800 Thai restaurants spread all over the world and every shop has Pad Thai.
Originally, Pad Thai is a dish influenced by Chinese cuisine "Fried noodles". Then it gets a new taste change in accordance with more Thai food later. Pad Thai in the early days used Chanthaboon noodles as a line for stir-frying.
In the beginning, Pad Thai does not add pork because it's more of a fried soy sauce dish which makes it too similar to Chinese food. Therefore, Pad Thai would add dried shrimp instead together with Yellow tofu, lime, garlic leaves, cabbage, and bean sprouts which is a raw material in Thailand. The name of Pad Thai originally is "Fried Noodles" then "Pad Thai Noodles" and later just "Pad Thai".
In recent years, the traditional Pad Thai recipe has evolved. The most common recipe for Pad Thai is still based on rice noodles, tamarind juice, and fish sauce. Following this, Pad is not a spicy food so most people can enjoy it. It is an all-time favorite and is the most popular in Thai cuisine. This is one of the most popular dishes in Thailand and has been a part of the cuisine for ages.
Thai Food #6
Gaeng Keow Wan Gai (Green Curry Chicken)
Gaeng Keow Wan Gai or Green Curry is a Thai type of curry consisting of meat, fish, chicken, or pork and vegetables, seasoned with coconut milk, sugar, fish sauce, kaffir lime leaves, and basil.
It's popular to eat with steamed rice or Khanom Jeen as a one-dish meal. The curry paste is green because it consists of green chilies instead of red. A few localities sometimes put Chilli leaves into the ingredient as well.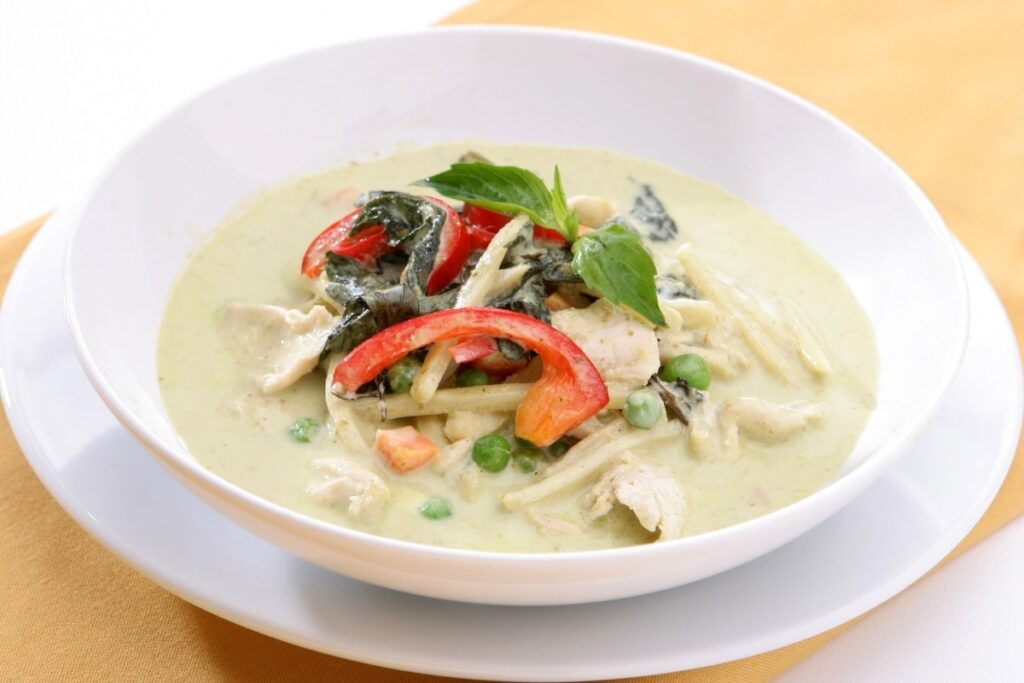 Green Curry traditionally comes in rarely found Benjarong which is a small ceramic bowl with high value. In addition, some restaurants in Thai serve the Green curry with beef together with roti as an Indian-style flatbread similar to roti canai in Malaysia.
Thai Food#7
Pad Krapow Moo (Stir-fried Basil and Pork)
Pad Kaprao or Stir-fried basil is one of the most popular Thai dishes, as street food, an a la carte dish that is common in Thailand. 
There are ingredients that include meat, basil leaves, yard-long beans, chili, and garlic. Furthermore, there are some vegetables such as baby corn, carrots, onions, and meat used in stir-fry basil. As the alternatives to Pad Krapow Moo, you can put chicken, beef, shrimp, squid, or even fish, mussels, crab meat depending on your favorite taste.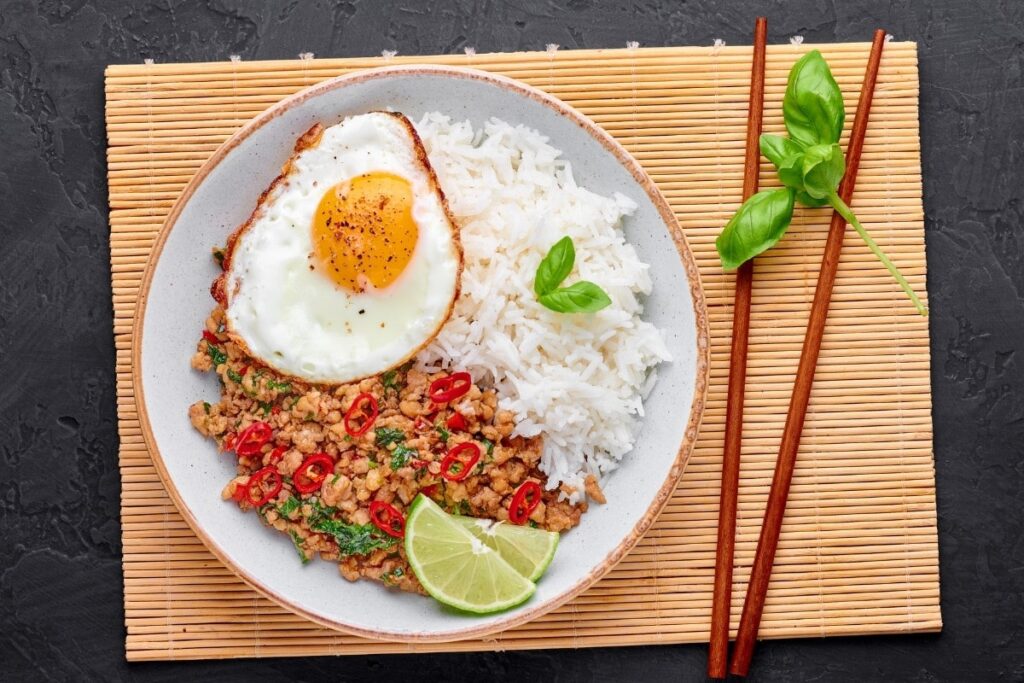 Pad Krapow Moo uses the method of stir-frying the ingredients together for cooking with fish sauce and sugar for seasoning. Following this, some people also add black soy sauce, ground pepper, and stock to stir. It's a good idea to eat Pad Krapow Moo together with steamed rice, fried eggs, and fish sauce to make it more spicy and fragrant.
Thai Food#8
Gai Pad Med Ma Muang (Stir-fried Chicken with Cashew Nuts)
Gai Pad Med Ma Muang or Stir-fried Chicken with Cashew Nuts is a spicy dish, unlike the Sichuan recipe where people would fry the chicken before stir-frying. You may be familiar with the word "Gai Pad" in Thai, which means "stir-fried chicken". In most cases, "Med" and "Mamuang" refer to "seed" and "mangos". However, when we talk about cashews, we shorten it to "Med Mamuang" although it is not a real mango seed. Therefore, the meaning of this menu is stir-fried chicken with cashews.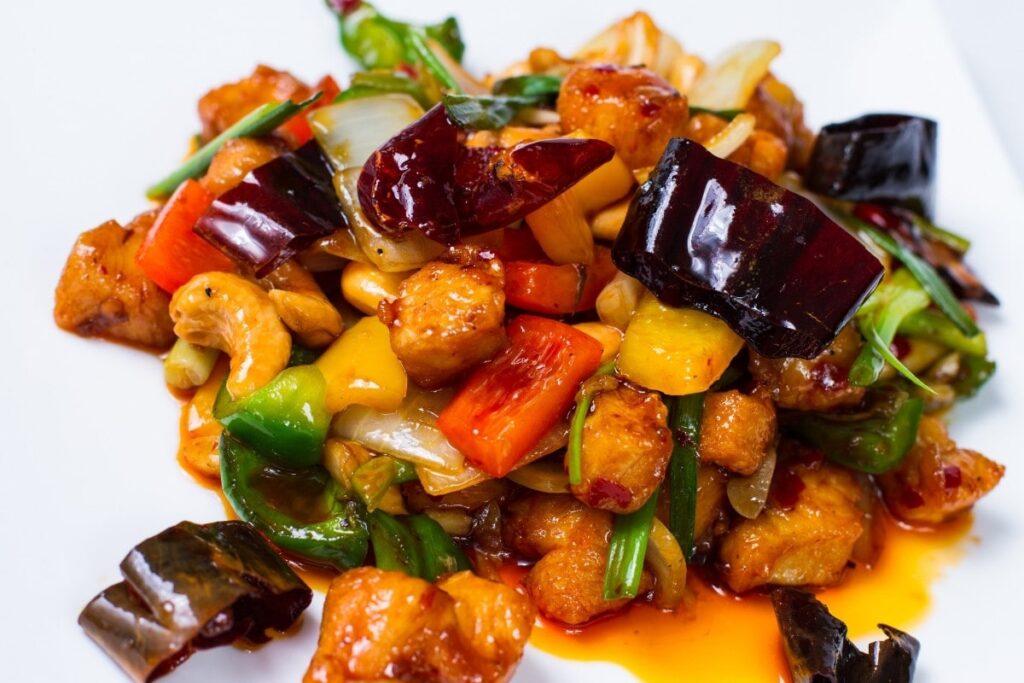 Gai Pad Med Ma Muang is not as spicy as the Sichuan recipe but a very delicious Thai cuisine. If you want more spicy, you can add more chilies. You may also use more chili flakes if you like.
Thai Food#9
Khao Soi Gai (Creamy Coconut Curry Noodle Soup)
Khao Soi Gai is a very popular local food in northern Thailand, formerly known as "Noodle Hor" is a food that has been influenced by Yunnan Chinese or "Hor". Following this, Khao Soi looks like noodles in a broth with spicy curry paste.
The word 'Khao Soi' comes from rice noodles. People use wheat flour mixed with water and eggs to make these special rice noodles. Then they knead the wheat flour until a smooth texture and roll it into sheets. Then the expertise chef would cut it into thin flat strips which means "Soi" in Thai.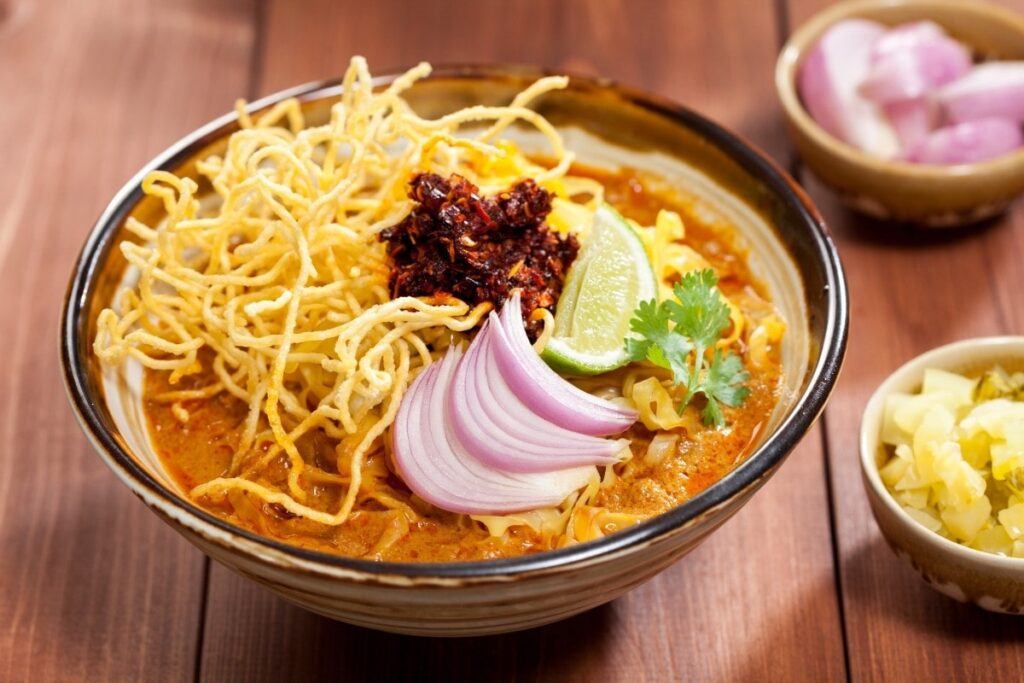 Side dishes include pickled lettuce, red onion, cabbage salad, and condiments such as chili stir-fried in oil, lime juice, fish sauce, and sugar. In the original recipe, the meat was chicken, but nowadays many restaurants use pork or beef as the alternative. Some places may add seafood or tofu as an ingredient as well.
Thai Food #10
Larb (Spicy Salad)
Larb is a spicy, hot, dish that often contains beef, chicken, or mushrooms. You can eat Larb as is or combine it with other dishes and flavors. To prepare this menu, Thai restaurants typically mince and combine this menu with chili, mint, cucumber, pork, and various vegetables.
Roughly ground toasted rice (Khao Khoua) is also a very important component of the dish. Khao Khoua is a type of rice that people would roast and grind into smaller particles that make it a good smell and in particular favor of this dish.
Conclusion: 10 Best Thai Food You'll Love To Try In Thailand
Thailand is an amazing country with wonderful cuisine that offers a wide variety of different dishes and cuisines. It is well known for its seafood dishes as well as being known as a country that offers a great combination of traditional Thai culture as well as modern amenities.
In conclusion, if you are looking to enjoy authentic Thai cuisine, then look no further than Thailand. With so many Thai food options, there's something for everyone! If you are looking to eat Thai food in Thailand, then this article is the best place to start. Hope you enjoy reading this article and check out these recommended Thai foods next time you visit Thailand.
Have you ever tried any of these Thai Foods or any other dishes you try but not on our list?! Please leave us your message below. We love to hear your comments!!
Source of reference: https://th.wikipedia.org/